What Does Today's Global Economy Tell Us About Crude Oil Demand
Thursday, September 14, 2017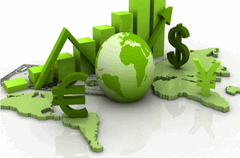 Why have major OPEC production cuts in 2017 not translated into the expected massive global inventory draw? What's missing in the Market's thinking? Is the Market over-estimating demand growth?

The IEA's oil demand forecast for 2017 has recently been revised upward to 1.5MM BOPD [August 11, 2017].

What if they're wrong!!?

The IEA has incorrectly forecast oil demand growth four times over the past 20 years: 1998 – Southeast Asian crisis; 2000-01 – U.S. Recession; 2008-09 – Great Recession; and 2012 – European crisis. The IEA's models for forecasting crude oil demand appear to have difficulty accommodating contractionary events.

Could this be a fifth time?????

We'll share some of our thoughts on the global economy and what impact it could have on crude oil demand and crude prices over the next 6-12 months.

Consider bringing a guest or an associate and come hear about some of those outcomes that could double your money or shake your business to its core in 2017 - 2018.
Date
Thursday, Sept.14, 2017
Location
Main Dining Room, The Bow Valley Club
370, 250 – 6th Ave. S.W.

Time
7:30 am – 8:00 am
Continental Breakfast
8:00 am – 9:15 am
Presentation and Q&A
RSVP

Duncan Robertson by: Mon. Sept. 12, 2017

Email: Duncan@turnstonestrategy.com

Turnstone Strategy Inc.
Phone: (403) 205-3255
Toll Free: 1 (888) 295-3255
Email: hiddenvalue@turnstonestrategy.com
Fax: (403) 251-0459