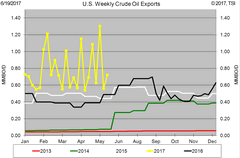 Conventional Crude Oil
June 23, 2017
Over-supply Intensifying
Sentiment and virtually all analysts seemed to have been blindsided by the failure of the large OPEC production cuts to deliver the expected massive oil inventory draw in 2017. The IEA's late ...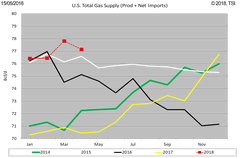 Natural Gas


June 23, 2017

Bearish Door Now Ajar

For a long time, Sentiment and speculators have been net short natural gas. However in Q3 2016, the speculative position actually shifted to net long (chart HHLongShort). This move was ...
Chart of Interest
The U.S. dollar represents a gauge measuring the markets' move toward high return/higher risk ($US falling) or risk aversion ($US rising). A failing global economy tends to prompt the risk-off trade and a rise in ...