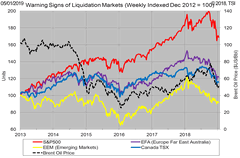 Conventional Crude Oil
Jan 11, 2019
Pipeline Congestion- Act 2 of a Macbeth Tragedy?
No, we are not talking about more WCSB oil congestion as Act 2 for this Macbeth Tragedy. In this case, ...
Natural Gas
Jan 11, 2019
Winter is over as far as price and traders are concerned (chart NGFeb19MA). Prices collapsed as the weather turned mild (chart WinterCHDD), and the risk of very ...
Chart of Interest
The U.S. dollar represents a gauge measuring the markets' move toward high return/higher risk ($US falling) or risk aversion ($US rising). A failing global economy tends to prompt the risk-off trade and a rise in ...