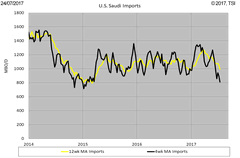 Conventional Crude Oil
Aug 15, 2017
Is the Slowing U.S. Oil Rig Count Meaningful?
Much of the price and Market Sentiment ebb and flow are triggered by weekly shifts in data. We see this as the market trading weekly noise for ...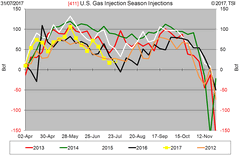 Natural Gas
Aug 15, 2017
EIA Sees U.S. Shifting To Net Natural Gas Exporter
The U.S. started becoming a net exporter of gas in 2017 (chart EIANetExp). The EIA expects this trend to continue because of increasing Mexican exports and ...
Chart of Interest
The U.S. dollar represents a gauge measuring the markets' move toward high return/higher risk ($US falling) or risk aversion ($US rising). A failing global economy tends to prompt the risk-off trade and a rise in ...