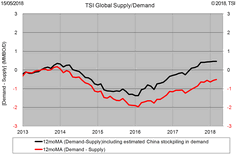 Conventional Crude Oil
Oct 17, 2017
Rising Chinese Risk
Oil prices rose last Friday partially because of reported strong Chinese crude oil imports in September. Bullish Sentiment sees strong Chinese imports as a sign of strong demand. Commentators often throw in ...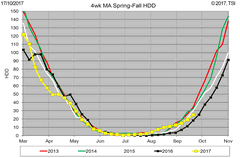 Natural Gas


Oct 17, 2017

Mild Exit

U.S. gas storage is about to exit the injection season and should be about average (chart RelStor).

Normally, heating demand becomes more important than cooling demand in mid to late September. This ...
Chart of Interest
The U.S. dollar represents a gauge measuring the markets' move toward high return/higher risk ($US falling) or risk aversion ($US rising). A failing global economy tends to prompt the risk-off trade and a rise in ...